How Prasun Jain filled-up his first Cohort-Based Course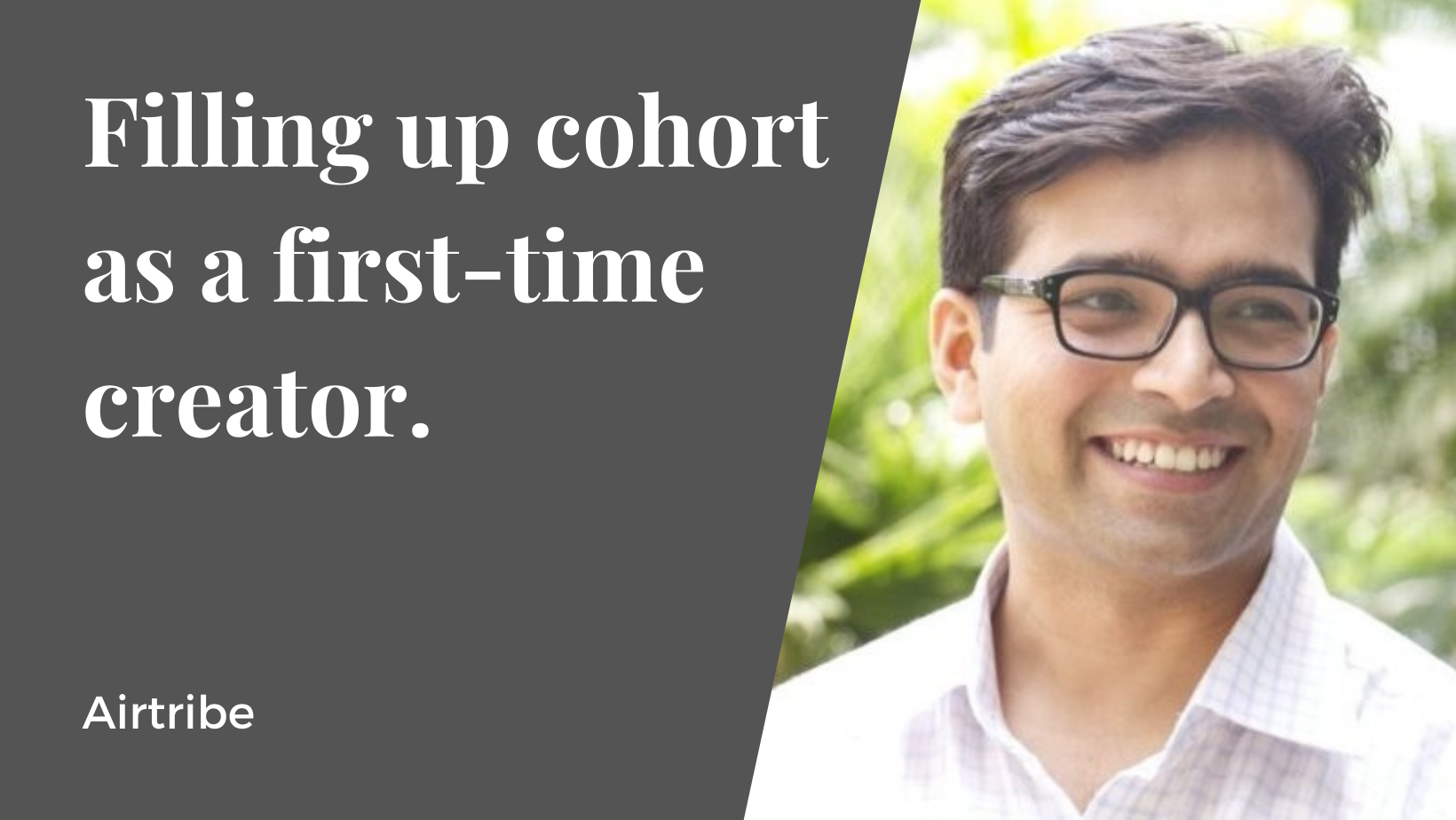 Prasun Jain comes with over 12 years of product & growth experience working across different geographies, industries & segments in India. He has founded & exited twice and has been a part of many other startup growth stories.
Prasun started and led Growth & Monetization team at Gojek and also oversaw 20x growth. After leaving the gig at Gojek, he recently joined Razorpay to lead the overall Growth & Experience of the product.
With all that experience in hand, Prasun wanted to design a 4-week Cohort-based course for experienced Product Managers, the course focused on Product Growth in the Indian & Asian Market. He timed the market to launch the course amidst the news of all the new-coming startup unicorns in India and titled his course: Product Growth in India & SE Asia | Unicorn Batch, Summer'21
The course was fundamentally built on growth frameworks, examples, analogies and case studies from successful products in India and SE Asia. It also promised guest lectures from the other successful product leaders within the same market.
Target Audience:
The course was designed keeping in mind:
Product Managers with 2-5 years of experience looking for depth in growth
People in growth, marketing, analytics or data folks with significant growth experience
Early-stage co-founders looking for quick ramp-up on product-growth fundamentals
Challenge:
The challenge kicked in when Prasun as a first-time creator was trying to fill up a premium cohort-based course with 20 students. He was on a quest to find 20 such people who were willing to spend $499 to learn the fundamentals of product growth in a very specific market.
The cost of an average pre-recorded Product growth course on marketplaces like Udemy ranges from $0-$50 and there were also other cohort-based courses for either the same or low prices in the market.
The even bigger challenge was to bring 20 students, keep them engaged for 4 straight weeks and make sure that the maximum of them finish the course in its completeness because that's what CBCs are supposed to be good for.
With all the challenges & competition, Prasun still comes with his own unique set of skills, experience, & more importantly, a teaching style.
After creating & launching the landing page on Airtribe's platform, Prasun went ahead and announced his course on his social handles and tried to fill the cohort from his personal network & social media following.
Within the next 24 hours, a total of 13 students signed up and when the creator has given it all, that's when the team Airtribe steps up. Along with Airtribe, Prasun utilized LinkedIn, Twitter, Paid Ads & Webinars as his learner acquisition channels.
For social media, he leveraged & posted the content related to the course, guests & mentors announcements to build credibility and used remaining course seats to create a sense of urgency.
Asked influential people in his network to post about his course
Announced his course on some of the other communities he's a part of
Cold outreach-ed to the student persona on LinkedIn
The cohort was filled up to 170% with over 81 leads, and instead of filling the cohort with 20 students, Prasun ended up with 26 students due to the high quality of submitted applications.
Community:
The course started on a good note on May 18th with Prasun delivering the first session on Acquisition, Activation & Conversion.
It was a thriving & engaging session, it would have been immensely difficult for Prasun to manage the students all on his own and that's where the Airtribe community managers steps up. Airtribe community manager not only helped Prasun to stay focused during the session, manage students but also kept the students engaged throughout the course and made sure that everyone participates and achieves their learning outcome.  
Results:
Just like Prasun, every creator, every professional comes with their own set of skills, style & even challenges. We at Airtribe emphasize a lot on empowering creators to be a powerhouse of an Instructor, where they can come in, plan their course & launch it.
We are accepting Instructor applications for our next batch of courses, if you are willing to train & teach next-gen professionals, apply now as an Airtribe Instructor